July 29, 2015
3 Tactics for Provocative Packaging Promotions
7Up, U by Kotex and Barbasol use promotional packaging this summer to help make consumers feel like they are getting something special and unique—because they are.
People are willing to go to great lengths to attract our attention—just look at presidential candidate Donald Trump and his latest shock-worthy remarks. Brands, like people, often do the same to regain market share, increase sales and/or grow their consumer base. They come out with new product innovations. They redesign their packaging. They create new formulas—gluten-free/sugar-free/fat-free—you name it. And they employ one of the best ways for a brand to get consumers' attention: They launch a promotional packaging campaign.
Promotional packaging often features unique graphics, compelling messaging and a call-to-action that creates intrigue, promotes trial and provokes purchase. In this age where it seems like everything is readily available (and via two-day shipping nonetheless), consumers need to feel like they are getting something unique to make a purchase.
Brands like Coca-Cola and M&M's understand this, and have responded accordingly with inspiring campaigns. Coke has been personalizing its cans with people's names to delight and encourage selfie-centric consumers to buy its products. M&M's not only finds innovative ways to surprise its consumers with new products, it also presents its fun-loving candy characters in a variety of seasonal outfits and situations worthy of collecting.
Because I'm always on the lookout for provocative new promotional packaging, I recently hit the supermarket to see what novel campaigns had cropped up for summer 2015. I noticed that this year's summer promotions use three distinctive tactics to speak to consumers:
1. Embrace a trend
2. Develop strategic partnerships
3. Get seasonal
Let's look at each tactic.
1. On trend, on the dance floor


It's nothing new for a brand to want to stay on trend, but it is always impressive when they are able to target an unmet demographic at the same time. That's what 7Up is doing with its new EDM-inspired cans.
Recognizing that there was a void for products that targeted Hispanic Millennials, which comprised 38% of the market, 7Up went after this segment of positive, experience-seeking young people. At the same time, 7Up also recognized that no beverage brand was capitalizing on the huge Electronic Dance Music (EDM) trend that is so popular with Millennials, and decided to take action.
The 7Up team created new promotional packaging (shown above) that is vibrant, colorful and cool—the kind of packaging that Millennials want to be seen holding in their hands. A partnership with EDM stars Martin Garrix and Tiesto led to the creation of cans that convey the energy of an all-night EDM party. These designs reflect different consumers' distinctive style and capture the essence of this music trend.
2. Partnering for success


In recent years, retailers have gotten savvy about how to use promotional packaging exclusive to their stores as a way to keep consumers loyal and to keep brands happy. That's what happened when Target teamed up with U by Kotex on its Style n' Store boxes.
This summer, after recognizing that young women value great design, U by Kotex —which revolutionized the category with its black boxes, bright colors and no BS-tone of voice—launched Style n' Store boxes to target young women craving style and balance. The boxes are so great looking that people simply don't want to throw them out when they are done with them.
Sold exclusively at Target, Style n' Store features bright, poppy designs in a box that serves a dual-purpose. Once emptied, it is used as storage for makeup, cotton balls, bobby pins and other knick-knacks that women need to store. It's a great product for girls headed off to overnight camp, teen tours and college, who may be needing trendy storage units. And it is consistent with the great design that Target consumers expect to find at the store.
3. Always in season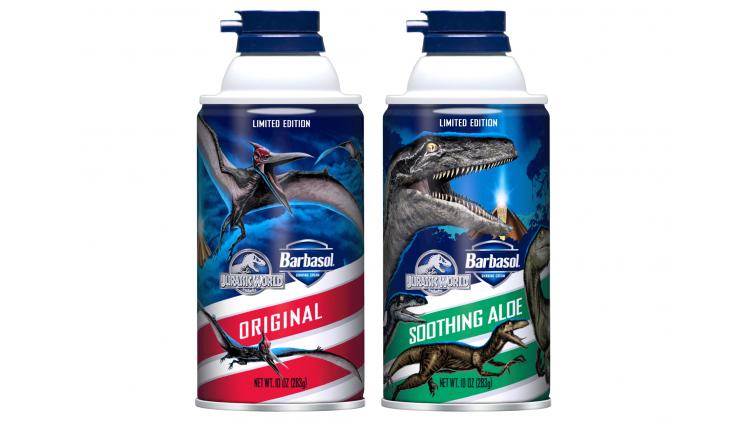 Promotional packaging and seasonal tie-ins pretty much go hand-in-hand, but the real challenge is to find a fresh, eye-catching way to inspire consumers to purchase a product.
Movie partnerships are the classic summer promotion and, every June, a slew of new promotional packaging comes out to coincide with the launch of the summer blockbusters. Yes, we expect Chiquita bananas to promote "Minions," but what does a Barbasol can have to do with dinosaurs? Well, a lot, it turns out, as the hundreds of millions of people who have seen the "Jurassic Park" movies over the years know.
In the first film in that series, a Barbasol can was used to nefariously smuggle dinosaur embryos off the island. That attempt failed, however, and the can was lost in the jungle, only to be brought back 22 years later. Barbasol's Limited Edition "Jurassic World" cans feature various illustrated dinosaurs sitting against Barbasol's iconic striped can.
By thinking out of the box and offering an unexpected twist on the movie tie-in, Barbasol offered a fresh take on promotional packaging and created a must-have collectors' item for both fans of the movie and fans of good design.
By using unique approaches to promotional packaging, each of these brands has inspired consumers to keep them top of mind. It's no surprise that the 7Up, U by Kotex and Barbasol promotions have created interest and buzz amongst consumers.
Promotional packaging continues to be an important part of the marketing mix, and my prediction is that it will continue to be so in years to come. Even though I'm not so good with the changing of the seasons, I can't wait to see what fall brings in terms of promotional packaging—and to see how "The Donald" will shoot his mouth off next.
Originally published in Packaging Digest.